VIRTUAL CONCERTS AND PERFORMANCES:
Certainly the 'times they are a changin' and with the 21st century in full swing musicians and composers of ever lesser reknown are discovering ways to get their music out to a wider audience over the Internet.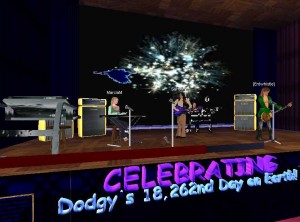 Recently Marcia made a guest appearance with the virtual reality band Aztech Rising in the Arts and Cultural Highway Foundation's virtual theatre within their Artshiway Project located in the Active Worlds Universe.

During the virtual concert held for a gentleman in Manchester England who was turning 50, she and Sunshine AKA Paul Marcano were able to perform a few selections off their new Beyond One album.

Marcia is currently establishing a music studio on the virtual Artshighway and is hoping to stage a series of performances starting this summer.. stay tuned!

If you would like to be included on the guest list in advance please Email Marcia to request an invitation. Visit www.ActiveWorlds.com to find out more about virtual venues and worlds.